by Ashley Lodato
As if Ruth Bader Ginsburg weren't notorious enough based solely on her academic and judicial career, the Supreme Court justice has to go and be a fashion icon as well!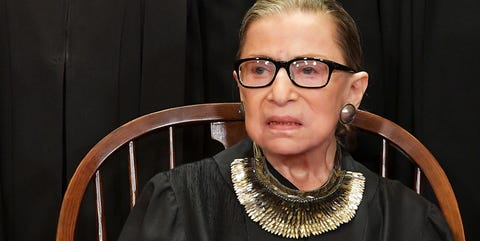 The second-longest serving justice currently on the bench, and the second woman ever appointed to the Supreme Court, Justice Ginsberg is well known for her razor-sharp opinions, her forceful dissents, and her championing of the rights of marginalized groups. And although her personal style is a trifling matter compared with her illustrious career, we still bow our heads to a professional gal who can rock a glamorous collar like no one else. So here's to you, RBG, and your aesthetic that is as shrewd as your mind.
Jewelry juxtaposed with jurisprudence: RBG and just a few of the rulings of her tenure on the bench.
Ledbetter v. Goodyear Tire & Rubber Company, 2007
No modern woman should go about her professional life without paying homage to the 2009 Lily Ledbetter Fair Pay Act, which was a direct result of Ginsburg's dissenting opinion in a ruling that favored the Goodyear Tire Company over a female executive whose pay fell woefully short of that of her male colleagues. The Lily Ledbetter Fair Pay Act addresses the gender wage gap by making it easier for women to challenge the unequal pay that is, sadly, still standard practice in this country.
We at Bronwen Jewelry stand firmly behind fair pay practices, not just for our employees, but also for the artisans from whom we source our precious gems, metals, and fibers, because fairly-traded materials support local economies and show respect for human dignity. Our Braided Romana Necklace and our Beaded Aurelia Necklace may not be as--um--dramatic as some of RBG's trademark necklaces, but both are constructed guided by the same ethics that demand equal pay for equal work.
Sessions v. Dimaya, 2018
This ruling struck a blow to the current administration's deportation scheme, making it harder for the US to expel certain non-citizens. This landmark liberal victory also marked the first time in RBG's entire court career that she assigned a majority opinion as the most senior justice in the majority.
Thinking about US immigration policy reminds us of the many countries from which we at Bronwen Jewelry gain inspiration for our handcrafted jewelry designs and source high quality fair-trade materials. It's no coincidence that these are the countries we love to travel in, as well! Mexico--we love you, and we love your vibrant colors and your vibrant approach to traditional crafts. Can't you just see RBG sporting one of our Beaded Huichol Necklaces? Designed by Huichol Love and made by Huichol artisans in the Sierra Madre mountains of Mexico and finished with sterling silver and gold elements in Austin, Texas and Sayulita, Mexico, these necklaces are a combination of colorful ethnic intensity and shimmering clean glamour. This lightweight and stunning statement piece is perfect for travel--which is only possible with open boarders, trust between nations, and common respect for others' humanity.
(Well ok, we were just going to focus on statement necklaces in honor of RBG. But for all we know, she's wearing statement bracelets under that black robe of hers. Statement bracelets like, perhaps, the Beaded Ombre Cuff? We may never know, but we can certainly picture Justice Ginsburg sporting this bracelet made by a women's artisan cooperative in Colombia--another country under fire in US immigration policy. Because damn, if the lady can pull off lace gloves--and she so clearly can--then striking beaded bracelets are right up her alley.)
Obergefell v. Hodges, 2015
Although it's disgraceful that same sex marriage rights were not granted at the federal level until three years ago, at least that Supreme Court, led by RBG, had the good sense to pass this ruling. A long-time promoter of LGBTQ rights, RBG identified regressive attitudes that would have allowed marriage to continue to be defined as a union between a man and a woman; her logical and sane reasoning influenced not only the court but public opinion as well.
We won't patronize you by telling you how firmly we stand behind marriage equality, but we will point you toward our beautiful and badass ambassador, Nikki Smith, who speaks and writes poignantly on the subject of LGBTQ rights. Nikki rocks our Open Gold Circle Beaded Fisherman's Necklace with the same confidence that RBG wears her "dissent collars," and champions long-overdue changes in social attitudes with the same zeal that RBG applies to her rulings. And as both Nikki and RBG are workout fiends (Nikki on rock and ice, RBG in the gym), it's quite handy that the Fisherman's Necklace--along with the rest of Bronwen Jewelry's Active Line--is swim, sweat, sand, and shower friendly.
All of Bronwen's handcrafted artisan jewelry is well made with quality materials designed to last a long and robust lifetime. We hope the same is true for the Honorable Supreme Court Justice Ruth Bader Ginsburg.