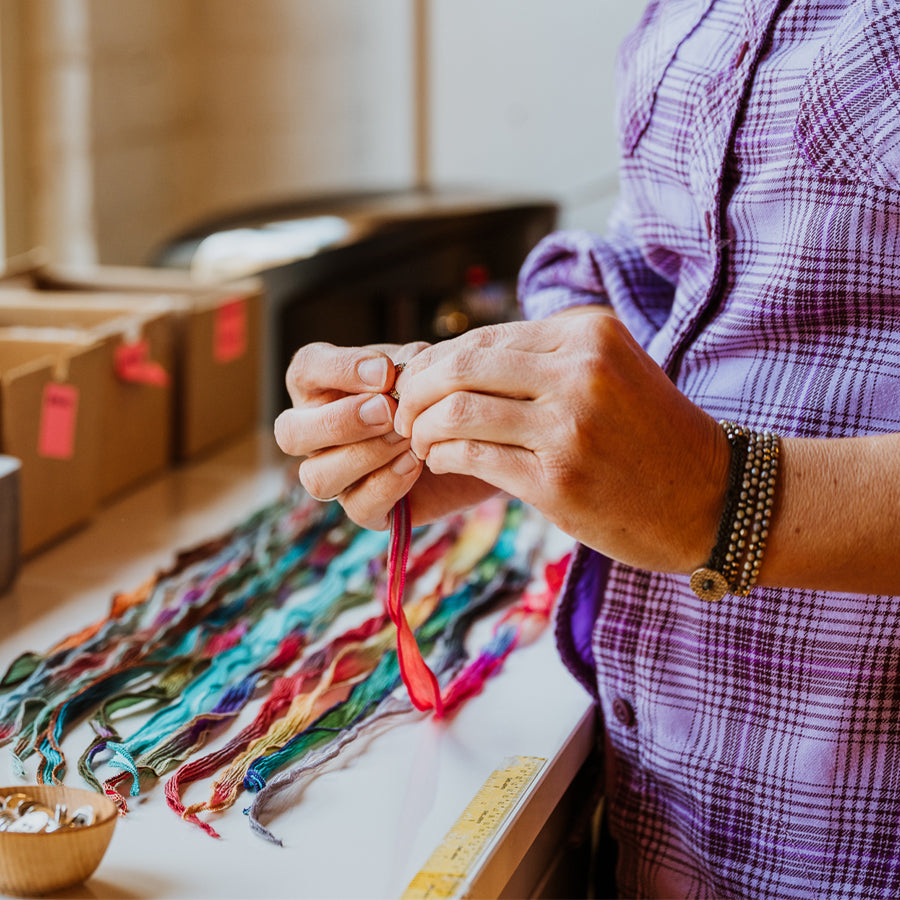 You can login in here with your email and password. If you do not remember your password click the 'forgot password' link.  Or you can email us directly for help at info@bronwenjewelry.com. 
All our jewelry is handmade in Bend, OR. Our turnaround time varies from 2-8 weeks for ASAP orders depending upon the season and current demand.  Plan ahead to ensure delivery in time for peak selling.
f you have placed an order and it's not what you expected, or it's damaged in shipment, or you have other return questions; please email us at info@bronwenjewelry.com. We guarantee everything we make so we want to ensure you are happy with your purchase.

All returns and exchanges must be made at place of purchase, please do not direct customers to us for exchanges or returns for product bought in your store. 
If you have a customer that is returning a product to you because they are in of need of a repair, or they believe it's defective; please have the customer reach out directly to us at info@bronwenjewelry.com. Or follow our "here's what to do for a repair" on behalf of your customer.
If an item arrives at a retail store damaged or defective reach out immediately to info@bronwenjewelry.com.  If the item becomes broken while at the store - this is not considered defective.  Normal wear and tear on piece is not defective, but can often be repaired through our repairs department.  Follow our "here's what to do for a repair" procedure on behalf of your customer or direct them to us directly at info@bronwenjewelry.com.
Please print and fill out this form and return it with your repair item and we'll do our best to get it back to you in 3-4 weeks.  Ship all repairs to the address below.  Please take care to package your jewelry carefully in a box or bubble wrap shipping envelope to avoid damages during shipment.  We are not responsible for lost packages or damages to jewelry during shipment when items are sent to us for repair or return.  We ask that you take responsibility to collect tracking numbers and insurance if desired. Please do not send us jewelry in a regular letter envelope with a stamp, as the mail system machinery will cause damages to the jewelry.  Note that we repair and rebuild items, we don't simply just replace it (unless as a last resort). 
*Any repairs outside the US are responsible for shipping costs both ways. We bill $35 for shipment of repair back to the home country.
Bronwen Jewelry
Att: Repairs
856 NW Bond St, Ste 202
Bend, OR 97703
Repairs should not be replaced with new inventory unless the retailer is okay with covering the cost. Repairs must follow repair procedure and our warranty protocol is to repair as much as possible. If you think you have a defective piece, contact us at info@bronwenjewelry.com.
We would love to clinic you and your staff on our product. We are available to do virtual clinics at your convenance, they run about 20 minutes long. Please email Olivia Meckel at olivia@bronwenjewelry.com to schedule a clinic.  You can also reach out to your rep for a in store clinic.
Jodee Manfred
Northern Rockies - MT, ID, WY, UT
Stacy Newton
stacynewtonsales@gmail.com
Upper Midwest - MN, WI, IA, IL, UPMI, ND, SD, MO
Pam Schwarzbach
In House
Southwest – AZ, NV
PNW – CA, AK OR, WA
Midwest – NB, KS, MI, IN, KY, OH
Tola – TX, OK, LA, AR
Deep South – AL, MS, FL
Southeast – TN, NC, SC, GA
Northeast – ME, VT, NH, CT, RI, NY, MA
Mid Atlantic – NJ, PA, WV, VA, MD, DE
Christie Dobson
Customer Service
or call (541) 640-3567‬‬‬‬‬
One of our core values is sustainability. Our jewelry artists make our products by hand right here in the USA and we offer a lifetime warranty on our products because we believe that things of value are always worth repairing rather than retiring. We source our materials from all over the world, with the majority coming from small fair trade artisan groups. Many of our suppliers have strong initiatives to employ women or under-represented communities and provide living wages, training, generous benefits, and incentives to grow and thrive. We use semi-precious metals and stones always sourced from small scale mining operations and we recycle all our sterling silver and gold scrap.  We've signed a pledge not to use plastic in our jewelry or our business operations and we source all lead and nickel free metals. When available, our packaging is from recycled sources. We have an aggressive give-back program which allows us to financially support socially and environmentally driven organizations whose values align with ours and we currently proudly sponsor small filmmakers whose work is to educate the public about important social and environmental issues. Bronwen Jewelry is an active member of our local community in Bend, OR and we can always be counted on to contribute to important cause-driven events and initiatives. Sustainability is not a marketing strategy for us, it is an added value to our brand, and we are very proud of our efforts and integrity. 
We use components and gemstones sourced from trusted suppliers around the world. We use only high-quality sterling silver, gold and gemstones that have come from small-scale mine operations, and we have signed a pledge never to use conflict-free diamonds, fossilized coral, engineered turquoise/gemstones or any endangered resources in our work ever. We recycle all our scrap metal and a percentage of the metal we source is recycled as well. We employ the technique of electroplating gold over silver, this is a better option for the environment because it uses less solid karat gold.  Our jewelry is handmade in Bend, Oregon, USA.
Our vendor partners are either certified fair-trade sources or small woman-owned and operated companies which place high value on fair trade practices such as employing women and paying generous wages and benefits for their labor. Our primary silver vendor is a woman-owned and vertically integrated company – she has owned her production workshop in Bali for over 30 years employing many of her master silversmiths for a lifetime.  
Our suppliers and vendor partners are human relationships we've been building for the past 15 years and there is a great deal of integrity in both our finished product as well as all the materials and processes involved. In sourcing our materials, we don't support factory-operated facilities and we opt instead for small artisan cooperatives often comprised of women, either in the USA or developing countries, where artisan work provides a beneficial lifestyle to the workers.    
We actively and financially support sustainably minded organizations within the jewelry industry that work to improve the quality and integrity of the industry from an environmental perspective. 
Less than 30% of the materials we source come from overseas and because our product is so small and so lightweight, all packages are the size of a shoe box (or smaller) and always in cardboard. We pay air freight for our imports and don't use ocean cargo for anything we source. 
For our internal shipping practices, we use all recycled cardboard sourced from the USA (always using previously used cardboard boxes when on hand) and all our paper goods for packaging are from a high percentage of recycled content if not 100%.  We don't use any synthetic packing material. 
We have signed a formal pledge (no2plastic) not to use plastic in our daily operations and we use a biodegradable recloseable zipper bag which meets ASTM D5511 standards in which to package our wholesale orders. The bag and zipper feature are made of low-density polyethylene LDPE that will biodegrade under anaerobic landfill conditions.  We often reuse plastic bags and packaging bubbles that we have received instead of throwing it away.
We use all sustainably sourced office supplies, and we are minimal consumers for the equipment needed for production. We use hand tools that last a lifetime, and our labor force is comprised of a team of women working together in a studio workshop in an historic downtown Bend, OR building. Our landlord continues to make improvements to the building, and we have brand new energy-efficient windows as of January 2022! We use LED lightbulbs in our studio and office. 
We partner with and financially support a variety of organizations whose mission is to improve the quality of the natural environment, LGBTGIA rights, People of color, climate change, mental health, and many other various efforts both social and environmental.
2022 Fall / Holiday Delivery Promo 
Starts June 6th – Ends June 20th, 2022
10% on Fall / Holiday orders to ship 10/1/22 – 12/31/22 (Q4 2022)
Promo code: Q4Holiday2022
Get your order in by 6/20/22 (no exceptions) and we'll add on 3 free Tiny Charms of your choice to either give to your staff, or to sweeten your overall margin with us. 

2023 Early Spring Delivery Promo
Starts Nov 1st – End Nov 18th, 2022
10% on Early Spring orders to ship 1/1/23 - 3/31/23 (Q1 2023)
Promo code: Q1Spring2023
Get your order in by 11/18/22 (no exceptions) and we'll add on 3 free Tiny Charms of your choice to either give to your staff, or to sweeten your overall margin with us. 
2023 Summer Delivery Promo
Starts Feb 20th – Ends March 10th, 2023
10% on Spring + Summer orders to ship 4/1/23 – 6/30/23 (Q2 2023)
Promo code: Q2Summer2023
Get your order in by 3/1/23 (no exceptions) and we'll add on 3 free Tiny Charms of your choice to either give to your staff, or to sweeten your overall margin with us. 
ASAP Orders 
At this time, we are not offering any discounts on ASAP orders, or orders outside of the PS Promo periods, or Show Specials dates. We are happy to take asap orders and fulfill them on a first come first serve basis.  We are encouraging more preseason ordering to best meet the growing needs of our customers and demand.  We appreciate your partnership as our brand grows.